Player, Steve, and David Keys. 1995. Activity-Based Management: Arthur Andersen's Lessons from the ABM Battlefield. MasterMedia Limited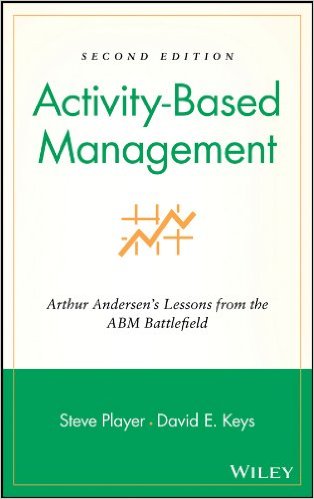 "We believe the results of this work deliver up some valuable lessons for any company thinking about ABM, about to start ABM, or recovering from a failure with ABM. . . . We hope our views on the pitfalls that impede successful implementation of ABM help the reader and that by book's end, you'll be as convinced as we are that ABM can be a key weapon in today's international business arena."-from the Preface
Now revised and expanded, Activity-Based Management covers the tools and techniques needed to implement ABM as smoothly as possible and use it to its maximum potential over the long-term. Along with revealing case studies from companies across industries, this comprehensive resource includes thirty lessons to be learned in three crucial areas: starting off right, developing the pilot, and moving from pilot to mainstream.
Instrumental in decreasing or eliminating misallocation and misinformation, activity-based management (ABM) is a discipline that focuses on the management of activities as the route to improving the value received by the customer and the profit achieved by providing this value. While a host of Fortune 500 and other growth companies are using ABM, not all are doing so with maximum results, demonstrating clearly that proper application requires certain tools and techniques. The fundamentals needed for the effective deployment of ABM are presented and explained in this comprehensive resource, now completely revised and updated.
Edited by Steve Player and David E. Keys, with cases written by members of Arthur Andersen's Advanced Cost Management Practice, Activity-Based Management defines what kind of organization should employ ABM, why it should be implemented, and how it can link with other improvement initiatives to enhance a company's management performance. Along with straightforward guidelines on ABM do's, Player and Keys offer important details on the don'ts, highlighting thirty lessons to be learned in three crucial areas: getting off to the right start, developing the pilot, and moving from pilot to mainstream. Covering potential pitfalls, as well as what to do to overcome them, the authors pinpoint such problems as unclear objectives, misallocation of costs, inadequate software, and poor project management.
For a frontline perspective, Activity-Based Management features revealing case studies from various corporations. Presenting their experiences with ABM and activity-based costing (ABC), these firsthand accounts examine a wide range of topics, including using storyboarding to develop ABM systems, how to use ABM for profitability, using ABM to support reengineering, and using ABC for target-costing, activity-based budgeting, and benchmarking.
In addition, the next wave of tools are examined. These include customer profitability, revenue profitability, performance management systems, target costing, and reporting ABC information.
Packed with proven strategies and practical tips, this accessible and exhaustive resource is indispensable reading for anyone looking to implement activity-based management smoothly and successfully