Hamel, Gary. Leading the Revolution. Harvard Business School Press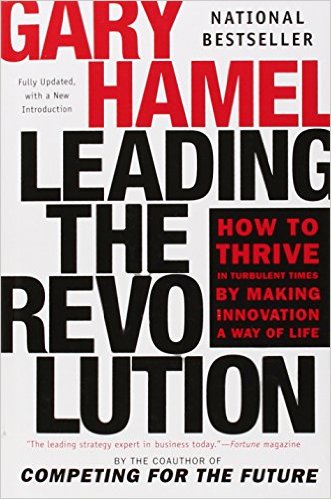 One of the world's preeminent business thinkers and co-author of the bestseller, Competing for the Future, Gary Hamel helped set the management agenda for the 1990s. He now brings us into the twenty-first century with Leading the Revolution, which spent time on The New York Times, The Wall Street Journal, USA Today, and Business Week bestseller lists, among others. In his new book, Gary Hamel lays out an innovative action plan for any company or individual intent on becoming-and staying-an industry revolutionary, for years to come. By drawing on the success of "gray haired revolutionaries" like Charles Schwab, Virgin, and GE Capital-companies who are always thinking ahead of the game and growing in new directions-and profiling individuals such as Ken Kutaragi, one of the pioneers of Sony Playstation, Hamel explains how companies can continue to grow, innovate, and achieve success, even in a chaotic world market. With insight culled from years of experience, Hamel:
Explores where revolutionary new business concepts come from
Identifies the key design criteria for building companies that are activist-friendly and revolution-ready
Shows how to avoid becoming "one-vision wonders"
Demonstrates how to harness the imagination of every employee
Explains how to develop new financial measures that focus on creating new wealth
Packed with practical advice, Leading the Revolution is an accessible read, perfect for both businesses and individuals that don't want to get caught in the slow lane in the race for success in the twenty-first century.