Lewis, James. 2000. Project Manager's Desk Reference, 2nd Edition. New York: McGraw Hill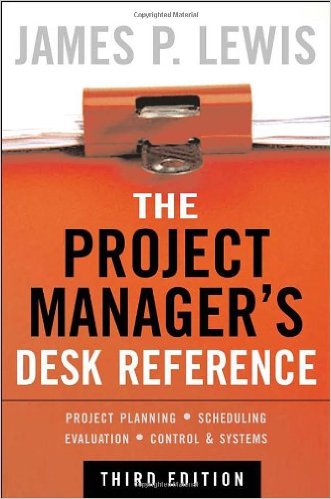 The definitive guide to keeping your project on time, under budget, and problem-free
In this Third Edition of The Project Manager's Desk Reference, top project management consultant James Lewis arms you with today's most comprehensive and understandable project management resources, showing you how to conduct a project of any size or nature-from the office move to building new facilities.
Using results-oriented language and easy-to-understand examples, this comprehensive, quick-reference guide presents specific situations taken from today's fast-moving business environment, walking you through proven solutions designed to keep the project moving forward.
This ready-access toolbox shows you how to:
Plan, execute, and control a project from beginning to end
Choose project managers, leaders, and teams
Develop project plans using Work Breakdown Structures, PERT, CPM, and Gantt schedules
Conduct risk analysis
Design a project control system
Use earned value analysis to track projects
Communicate effectively with all levels of your team
Conduct the essential post-project "lessons learned" review
Serving as the perfect supplement to Lewis's bestselling PM bible, Project Planning, Scheduling, and Control, The Project Manager's Desk Reference provides you with the foundation you need to manage any project to its successful completion.